Name:
Real name unknown, but goes by Aveira Chitsuki ((Aveira=Hebrew for 'sin.' Chitsuki=Japanese for 'bloody moon'))
Age:
19
Birthday:
She can't remember ((October 11))
Height:
5' 5"
Weight:
She refuses to tell
Village:
Unknown, but is found in Sunagakure
Favorite food:
anything sweet
Powers:
She carries around two dagger-like swords. She can control blood when in Chitsuki (bloody moon) form, but this takes a great toll on her afterwards. Her speed is almost unmatched. She mostly uses blood-related attacks and her swords have a special blood-draining power if they cut deep enough. It won't kill you unless she leaves the sword there for a large ammount of time, but it can harm you, and it makes her stronger. She doesn't remember all of this at first, and only gradually figures out how to use her jutsus.
Class:
none/she can't remember
Appearence:
Silvery-lavender hair ((style is a bit like Amane Misa's from Death Note)). She wears silky black gloves that match her black dress. She wears black shorts underneathe, just in case.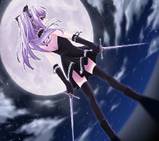 Temper:
Her emotions are always in check and she's always polite, even when she's fighting. She appears cold or emotionless at times.
Strong/Weak point:
Her emotions. She is afraid to show too much emotion because she thinks that she'll lose control....Which she will. Though this is her weakness, she is also at her strongest when she is emotional. Her blood-lust completely takes her over and she loses all control of herself. Those who try to abuse her weakness should be very careful, as she's killed hundreds in this state (though she doesn't remember it.)
Back Story:
She can't remember anything at all prior to waking up in Sunagakure. She's a morbid girl who loves the taste of blood. She wants to have friends and she is nice to those who are nice to her, but she can't help her nature. She's developed a vampire-like need for blood and will die if she goes for too long without it. She searches for her lost memories, getting pieces back a bit at a time. She's afraid of falling in love and will do almost anything to avoid it, as she considers it a weakness.